Historic Hacienda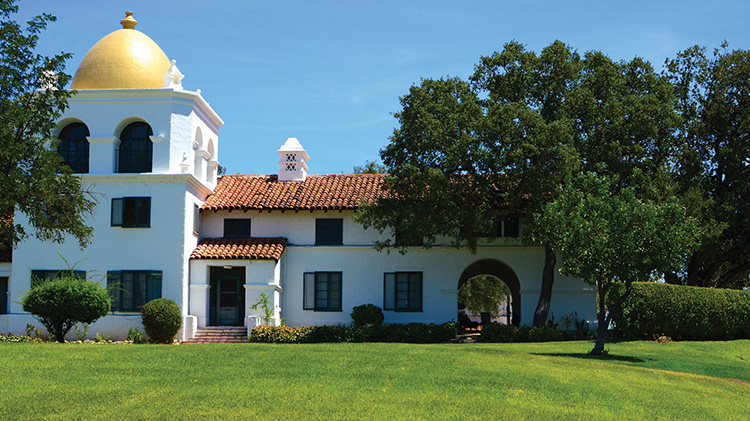 Bar Hours
Hours of Operation
| | |
| --- | --- |
| Monday | 7:30 a.m. - 4:30 p.m. |
| Tuesday | 7:30 a.m. - 4:30 p.m. |
| Wednesday | 7:30 a.m. - 4:30 p.m. |
| Thursday | 7:30 a.m. - 4:30 p.m. |
| Friday | 7:30 a.m. - 4:30 p.m. |
| Saturday | 8 a.m. - 4:30 p.m. |
| Sunday | 8 a.m. - 4:30 p.m. |
The Hacienda is an historic site that now serves as a hotel in Monterey County, California. The building was completed in 1930 by William Randolph Hearst. He built the structure to serve as temporary housing for his employees and guests. It was a central headquarters for activities taking place on the surrounding land.
The lodge building, designed by architect Julia Morgan, replaced and expanded upon an earlier wooden structure known as the Milpitas Ranch House. That building was destroyed by fire in the 1920s.
The 1930 hotel has also been known as Milpitas Hacienda, Hacienda Guest Lodge and Milpitas Ranch House. The property was placed in the National Register of Historic Places on December 2, 1977.
The lodge includes a restaurant, lounge, cantina, offices, public assembly rooms, guest rooms, a swimming pool and a tennis court. Hearst sold the structure and its surrounding property to the United States Army in 1940 for use as a training facility. Responsibility for the land and buildings was assumed by the Army at Fort Hunter Liggett. Today, the Army still owns the building and, a concessionaire operates it as a public hotel within the military base.
Bar Hours of Operation

Bar Hours

| | |
| --- | --- |
| Monday | Closed |
| Tuesday | Closed |
| Wednesday | 5 p.m. - 10 p.m. |
| Thursday | 5 p.m. - 10 p.m. |
| Friday | 5 p.m. - 12 a.m. |
| Saturday | 5 p.m. - 12 a.m. |
| Sunday | Closed |

Contact Information

Fort Hunter Liggett
Bldg. 101 Google Map

WiFi Available

Handicap Accessible

Choose from any one of our comfortable rooms

Cowboy Rooms - $50/night 4 rooms with queen-size beds. 1 room with twin beds. Shared bathroom and shower.
Garden Rooms - $75/night Queen size bed and private bathroom.
Tower Rooms - $90/night Queen size bed and full size sofa bed with private bathroom.
Mini Suite - $95/night Queen size bed and full size sofa bed with private bathroom.
Upper Commander's Suite - $150/night 2 bedrooms with 1 queen size bed, 1 king size bed, full kitchen, full bathroom, and living room with working fireplace.
Lower Commander's Suite - $200/night 2 queen beds and 1 king bed, 1 1/2 bath and full kitchen and living area. **Suite has a two-day minimum stay**

 

Heritage Center

The Heritage Center is open to educate and honor the U.S. Army history in the San Antonio Valley, and foster a understanding and connection between the local community and the U.S. Army, as well as provide a place where Soldiers, their Families, Army Civilians, and the community can gather to explore the past, celebrate the present, and gain inspiration for the future.

The Heritage Center showcases the post military history with information panels, videos, documents and World War II artifacts. It also recognizes key eras: the Salinan Indians, the mission and ranchos eras, the historic town of Jolon, and the William R. Hearst ranching legacy.

The Heritage Center is   available for general viewing and meeting space. It is open on Wednesday, Friday, and Saturday from 1pm - 4pm and by appointment.