Army Community Services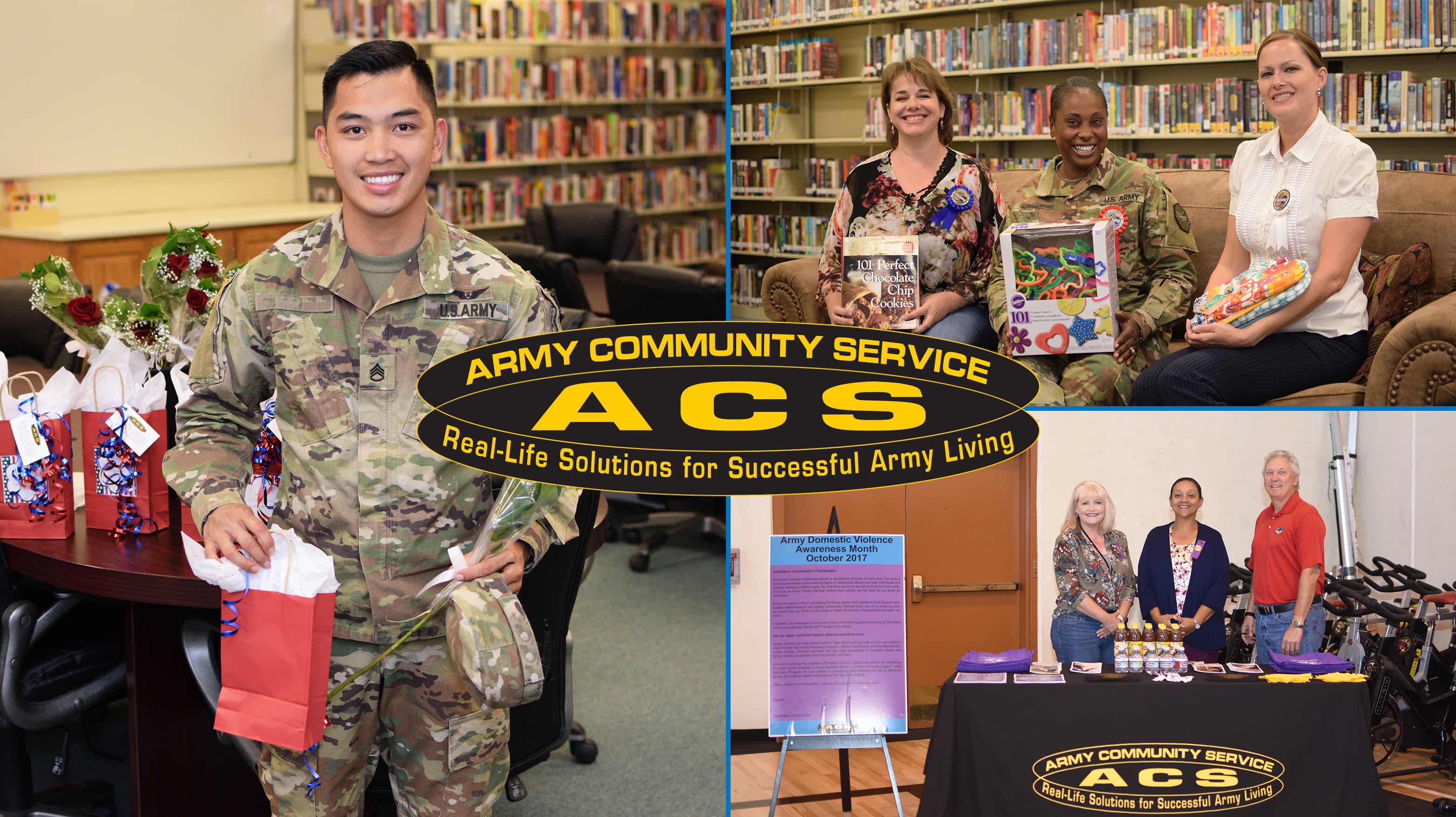 Army Community Service (ACS) is an empowered team that provides comprehensive, coordinated, and responsive advocacy and prevention, information and referral, outreach, financial, and employment services that support the readiness and well-being of Soldiers and their Families, Civilian Employees, and Retirees.
Army Community Service (ACS) supports the Fort Hunter Liggett community with the following services:
Family Advocacy Program helps Soldiers and their Families prepare for the unique challenges of military lifestyles.

Army Emergency Relief provides Soldiers and their Families assistance in a great variety of financial situations

Financial Readiness provides information on money matters and financial services.

Information & Referral (I&R) provides FHL Commanders, Soldiers and Families with information regarding military and civilian community resources.

Relocation Readiness Program is a comprehensive support system, to assist you with your PCS/ETS move.

Army Volunteer Corps is designed to help you find local volunteering opportunities with organizations that benefit the Army and local communities.

Exceptional Family Member Program (EFMP) provides comprehensive support to family members with special needs.

Employment Readiness offers resources to help with your career planning and job search.

New Parent Support Group promotes healthy families through a variety of services including home visits, support groups, and parenting classes.

Victim Advocacy Program is a specialized function within FAP providing comprehensive assistance and liaison to and for victims of abuse and sexual assault.

Army Family Action Plan (AFAP) provides the Army community a "voice" in shaping their standards of living; a way for Soldiers and Family Members to let Army leadership know what works, what doesn't - and what they think will fix it.

School Liaison Officer (SLO) collaborates with the local schools and military families to provide information, resources, and referrals.

Army Family Team Building (AFTB) empowers you to maximize your personal and professional potential.

Loan Closet provides basic household items for soldiers and families arriving or departing Fort Hunter Liggett who need assistance with personal items.

Central Intake/Information and Referral provides information regarding military and civilian community resources, in-processes individuals new to the community, and provides clearing information for out-processing personnel.
Eligibility - All branches of the Armed Forces, DoD Civilians, Retirees and their family members.
Fort Hunter Liggett Bldg. 238 Jolon 93928 United States
+1 (831)386-2375
| | |
| --- | --- |
| Monday | 7:30am-4:30pm |
| Tuesday | 7:30am-4:30pm |
| Wednesday | 7:30am-4:30pm |
| Thursday | 7:30am-4:30pm |
| Friday | 7:30am-4:30pm |
| Saturday | Closed |
| Sunday | Closed |
Email Us
Qualified Recycling Program
The Fort Hunter Liggett Qualified Recycling Program (QRP) offers the Fort Hunter Liggett community a wide range of services that support the Installation and achieves the Army Net Zero goal.

Services Include:
Curbside Collection
24/7 Collection Trailers
E-Waste Certified Facility
Major Appliances Recycling
Tenant Office Collection
Scrap Metal Disposal
Paper and Cardboard Collection
Brass and Metal Collection
Bldg. 338 Jolon, California 93928 United States
+1 (831)682-1996
| | |
| --- | --- |
| Monday | 7:00am-4:00pm |
| Tuesday | 7:00am-4:00pm |
| Wednesday | 7:00am-4:00pm |
| Thursday | 7:00am-4:00pm |
| Friday | 7:00am-4:00pm |
| Saturday | Closed |
| Sunday | Closed |
| Federal Holidays | Closed |
Email Us
Programs using this location:
← Previous
1 (current)
Next →