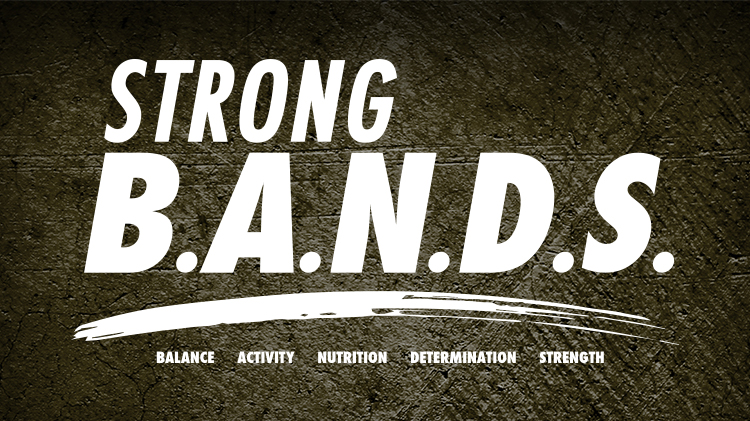 Note: This event has already passed.
Date: May 16 2018, 12 p.m.
DeAnza Sports Center - Fort Hunter Liggett Bldg. 219 Jolon 93928 Google Map
Summer is right around the corner and the hot Californian weather is beckoning everyone to get out, be active and get ready for the beach season. Good thing that the Army Strong B.A.N.D.S. campaign takes place in May giving you time to get ready!
Strong B.A.N.D.S. (Strong, Balance, Activity, Nutrition, Determination and Strength) goal is to promote and highlght garrison fitness and wellness programs available to Soldiers, Families, Retirees, and Civilians. This campaign provides garrisons with a way to showcase their sports and fitness programs in order to motivate their community into pursing a health lifestyle. Fitness is no something that you just do. Fitness is a state of mind and one must think healthy as well as participate in health activities. Family and MWR's Sports Center in partnership with other MWR facilities will ahve a series of events avilable for the whole community to enjoy.
By participating in these events you are no just participating in a healthy activity, you are serving as a role model to inspire our Soldiers, their Families and Civilian workforce to make nutrition and physical fitness a priority in their lives.
Kick-off Event - Spin Class (Sports Center, Wednesday May 2 @ 12:00)
All Military and Civilian personnel are invited to join "Master T" for a challenging spin class that will serve as the official kick-off for the 2018 Strong B.A.N.D.S. fitness program.
Cybrary - StoryWalk (Track and Field, Thursday May 10 @ 9:00)
Children of all ages are invited to join the Cybrary staff for a fun adventure of reading excercise and imagination. Children will be introduced to a fun book. Parents are encouraged to particiapte.
Cardio Circuit Challenge (Sports Center, Wednesday May 16 @ 12:00)
All personnel are invited to participate in Mr. Ivan Garcia's high intensity cardio workout challenge which will consist of a circuit of cardio exercises sure to get the heart pumping. Are you up to the challegne?
Bowling Tournament (Liggett Lanes, Wednesday May 23 @ 12:00)
All bowlers are invited to enter a team in the 2018 Golden Pin Tournament. The coveted "Golden Pin" will be awarded to the team with the best combied score. DPTMS is the defending champion!