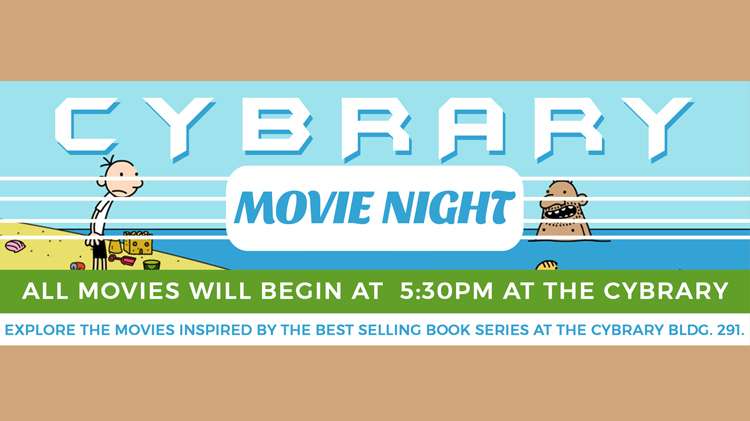 Diary of a Wimpy Kid Marathon
Date: Nov 2, 5:30 p.m.
Cybrary - Fort Hunter Liggett Bldg. 291 Jolon 93928 Google Map
Join us at the Cybrary and explore the movies inspired by the best selling book series. All movies will begin at 5:30PM. For more information, please call (831) 386-2719.
November 2, 2017 - Diary of a Wimpy Kid (Rated PG):
To Greg Heffley, middle school is the dumbest idea ever invented. It's a place rigged with hundreds of social landmines, not the least of which are morons, wedgies, swirlies, bullies, lunchtime banishment to the cafeteria floor - and a festering piece of cheese with nuclear cooties. To survive the never-ending ordeal and attain the recognition and status he feels he so richly deserves, Greg devises an endless series of can't-miss schemes, all of which, of course, go awry. And he's getting it all down on paper, via a diary - "it's NOT a diary, it's a journal!" Greg insists, preferring the less-sissyfied designation - filled with his opinions, thoughts, tales of family trials and tribulations, and (would-be) schoolyard triumphs. "One day when I'm famous," writes Greg, "I'll have better things to do than answer peoples stupid questions all day." So was born the Wimpy Kid's diary.
November 3, 2017 - Diary of a Wimpy Kid: Rodrick Rules (Rated PG):
Greg and Rodrick don't get along, and his parents are fully aware of that. In order to help them get along, Greg's mother introduces Mom Bucks, which rewards them for getting along. But Rodrick isn't the only problem. He has to deal with any conflicts involving Holly Hills, as well as other embarrassing situations. Will Greg and Rodrick get along?
November 16, 2017 - Diary of a Wimpy Kid: Dog Days (Rated PG):
Summer vacation started, and Greg has his own way to enjoy it with video games. However, his father wants him to go outside and stop playing video games, and his mother has her own plans, including a reading club. In addition, Greg can't get along with his father. The only thing they have in common is the hatred for the Lil Cutie Comics. Things only get worse after the stay at the beachside cabin goes totally wrong. Will anything go right? At least there's Holly Hills.
November 17, 2017 - Diary of a Wimpy Kid: The Long Haul (Rated PG):
A Heffley family road trip to attend Meemaw's 90th birthday party goes hilariously off course thanks to Greg's newest scheme to get to a video gaming convention. This family cross-country adventure turns into an experience the Heffleys will never forget.
We wil also have the Diary of a Wimpy Kid book series available for reading. Limited copies are available.