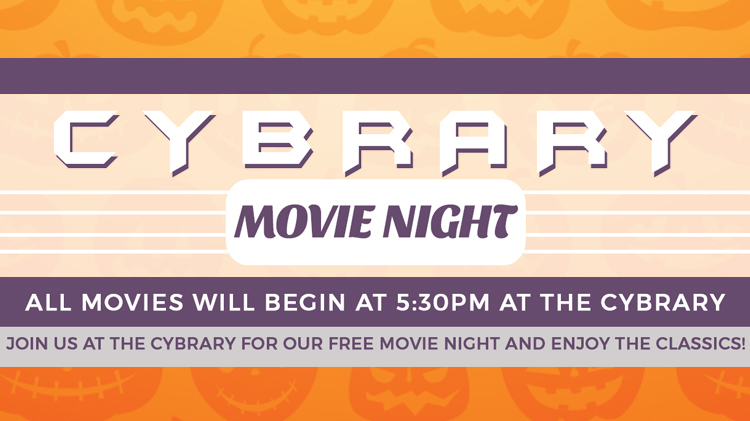 Date: Oct 23, 5:30 p.m.
Cybrary - Fort Hunter Liggett Bldg. 291 Jolon 93928 Google Map
Join us at the Cybrary bldg. 291 as we show these classic movies with a Halloween theme.
October 23, 2017 - James and the Giant Peach (Rated PG):
James' happy life at the English seaside is rudely ended when his parents are killed by a rhinoceros and he goes to live with his two horrid aunts. Daringly saving the life of a spider he comes into possession of magic boiled crocodile tongues, after which an enormous peach starts to grow in the garden. Venturing inside he meets not only the spider but a number of new friends including a ladybug and a centipede who help him with his plan to try and get to New York.
October 24, 2017 - Beetlejuice (Rated PG):
Adam and Barbara are a normal couple...who happen to be dead. They have given their precious time to decorate their house and make it their own, but unfortunately a family is moving in, and not quietly. Adam and Barbara try to scare them out, but end up becoming the main attraction to the money making family. They call upon Beetlejuice to help, but Beetlejuice has more in mind than just helping.
October 25, 2017 - Corpse Bride (Rated PG):
Set back in the late 1800s in a Victorian village, a man and woman by the names of Victor Van Dort and Victoria Everglot are betrothed because the Everglots need the money or else they'll be living on the streets and the Van Dorts want to be high in society. But when things go wrong at the wedding rehearsal, Victor goes into the woods to practice his vows. Just as soon as he gets them right, he finds himself married to Emily, the corpse bride. While Victoria waits on the other side, there's a rich newcomer that may take Victor's place. So two brides, one groom, who will Victor pick?
October 26, 2017 - The Addams Family (Rated PG-13):
The Addams step out of Charles Addams cartoons. They live with all of the trappings of the macabre (including a detached hand for a servant) and are quite wealthy. Added to this mix is a crooked accountant and his loan shark and a plot to slip in the shark's son into the family as their long lost Uncle Fester. Can the false Fester find his way into the vault before he is discovered?
For more information, please call (831) 386-2719.